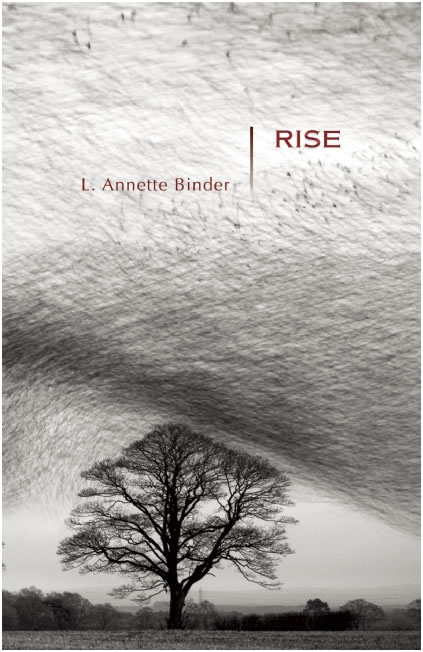 "Binder has gone so deeply, and with such mystical brilliance and loyalty, into her own world that she has brought mine to me in high relief. She both casts a spell and breaks it. To experience Rise is to experience wonder." -- Laura Kasischke
……
"The complex interweaving of themes, rendered through precise detail, is akin to a powerful subterranean disturbance that sends seismographs jumping but leaves few visible effects." -- Starred Review, Publishers Weekly
……
"Rise is a knowing exploration of what we do when the unthinkable happens: no matter what form it takes... Binder's characters must ultimately suffer alone, but now matter how isolated they feel, they never completely lose their ability to find grace in the compassion of others." -- Sarah Bridges, New York Daily News
……

"Rise is a wondrous debut collection of her stories, any one of which could be an example of the form at its best... These stories ... are like ripe grapes, small in size, but oh so succulent and sweet." -- Peter Dabenne, ForeWord Magazine
……""
"As excellent as the writing is, incisive short sentences that march on their own effortlessly, this is an emotionally difficult book: we fully get to glimpse the blind eye aspect and our heroic struggle with it. Some of the characters don't make it out, as in real life. Some will struggle in a long night all their life, as in real life. Some are saved by rising to the best of what it means to be a human being." -- Trena Machado, newpages
……
"Binder's sharp debut story collection features diverse characters transfixed within the limitations and tension of their environments... her characters' yearnings and emotions are grounded in life's everday, restless manifestations." -- Booklist
……
"The fourteen stories in [Binder's] debut collection Rise bring to mind the title of a Tom Waits album: Glitter and Doom. Rise contains a king's ransom of both... The rarity of Binder's moments of grace and humor give them great power and beauty.. Binder can transform even the hopeful into a portent of doom, but the stories in Rise convey the utter darkness preceding the dawn with a clarity and precision that make even their pain a pleasure." -- Lee Thomas, Fiction Writers Review
……
"A wide spectrum of tales, some of which contained elements of weird fiction, that use metaphor and symbolism along with elements of realist narratives to create tales that haunt the reader long after the story is read. Very few writers, especially those with only a singular collection, manage to release such a uniformly strong collection." -- Larry Nolan, the OF blog
……
"These are stories about the loneliness that lies at the heart of exceptionalism, about the ways in which families struggle to hold together what the world would divide. These stories evoke wonder, yes, as well as a sympathy that is epic in both its reach and its depth." -- Anika Gupta, Iowa Review
……
"Vladimir Nabokov said, 'A writer should have the precision of a poet and the imagination of a scientist.' L. Annette Binder exemplifies these qualities in her debut collection of short stories, Rise, which is rooted in reality, yet winged and lyrical. Rise shines by pushing against the boundaries of the plausible and enmeshing the grotesque with the natural world." -- Meredith Newell, The Fiddleback
……
"Rise is a beautiful book, and Binder's words cut clear and straight to the bone." -- Hannah Tiniti
……
"There is a yearning so deep in each story, something beautiful and urgent, that the book glows. L. Annette Binder arrives with worlds of empathy and strange surprise." -- Ron Carlson
……
"Three years ago I read a story titled "Dead Languages." I came out of my chair. I've been in standing-ovation position reading every subsequent story written by L. Annette Binder. They came out exquisitely one by one, and now you ae damn lucky to have them all in one wondrous volume...." -- Michelle Latiolais
"
Sarabande (2012)
Recipient, 2011 Mary McCarthy Prize in Short Fiction
A Poets & Writers Notable First Book
A Publishers Weekly Pick of the Week
A Fiction Writers Review Book of the Week
Winner of the ForeWord Firsts Summer 2012 Competition
Finalist, Colorado Book Awards